KITCHEN RENOVATIONS REGINA
Your kitchen is the heart of your home!
At Collaborative Construction, we work side-by-side with you to provide stunning, yet affordable options for your kitchen renovation in the Regina area.
Your kitchen should allow you to be more then just a culinary ninja – It should also allow you to host guests, and enjoy meals with your family.
We'll take your unique requirements into account to create a practical, stylish, and altogether functional space.
Bon appétit!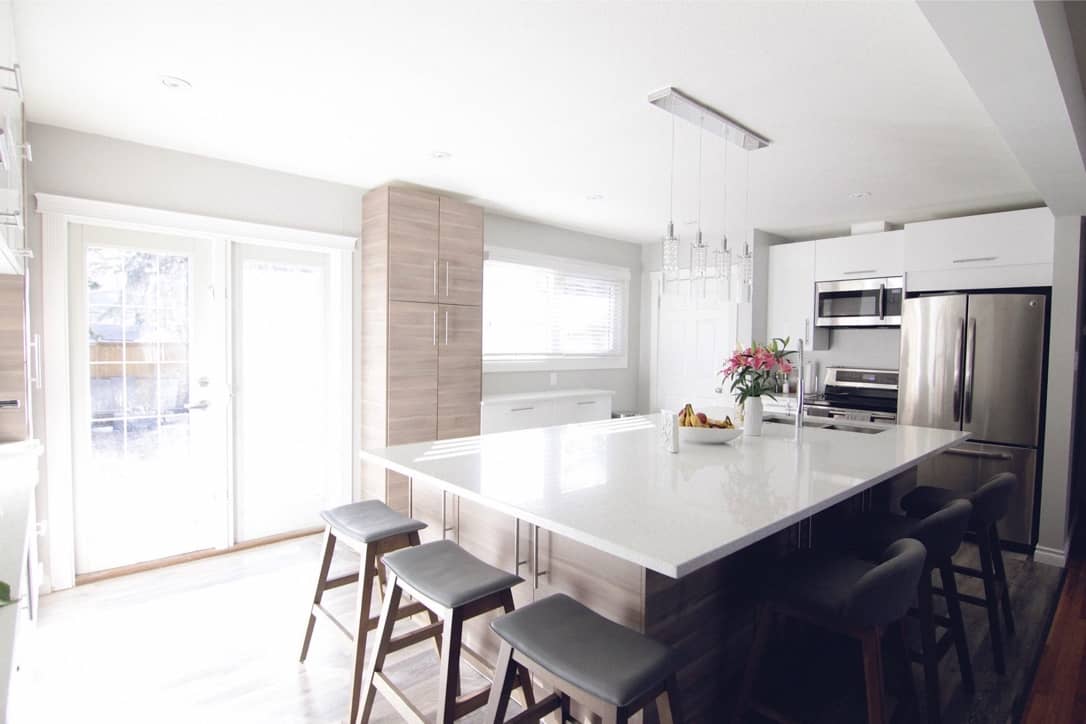 HOW TO REMODEL YOUR KITCHEN
When it comes to remodeling your kitchen, you'll probably have a thousand questions.
From what type of cabinets should I use, to can I remove this wall? There are so many factors to consider that we would love to help you with.

Our CoCon family is here to help you with every question along the way.
First, we'll work together to create your vision, while working within the constraints of your home and budget.
We've done enough kitchens to add some great suggestions when it comes to kitchen layouts, wall removals, and overall functionality.
Then, our industry-leading renovation contractors will get to work, building your dream kitchen!

Based on your preferences we can introduce unique and custom design features such as, kitchen islands, hood ranges, and wine racks.  We can do off-the-shelf IKEA cabinets (with some customization), semi-custom options (more design and colour choices), or full custom-made kitchen cabinets.

In the end?
You get a space that brings together show-stopping design with must-have functionality.
EVERYTHING YOU NEED TO KNOW
ABOUT RENOVATING YOUR KITCHEN
During our initial meeting, it is important to ask questions about your renovation project. Sometimes it can be hard to know what are the right questions?
Some common questions we get asked:
DOES THE EXISTING LAYOUT OF MY KITCHEN WORK?
The workflow of your kitchen is important.  You need to establish what your kitchen requirements are for your workspace, cupboard room, countertop space, appliance layout, room for entertaining, etc.
We'll look at your existing layout to provide suggestions on how we can perhaps improve it to meet your kitchen requirements.
HOW EXPENSIVE WILL MY KITCHEN RENOVATION BE?
This depends entirely on your kitchen renovation vision.
We'll take your requirements and budget into mind, bringing your dream kitchen to life without breaking the bank.
HOW LONG WILL IT TAKE TO RENOVATE MY KITCHEN & WHEN CAN YOU START?
This is determined by the size of the kitchen renovation project, however they typically fall between 3 to 16 weeks.
During our initial meeting, we can better estimate the duration of your project based on the requirements.  We can also discuss the timing that works best for both of us to ensure we minimize kitchen downtime and complete your kitchen project on time and on budget.
SHOULD I USE IKEA CABINETS, GO FULL CUSTOM, OR SOMEWHERE IN BETWEEN?
This is a tough question, heavily dependent on your budget, kitchen layout, and design requirements.
IKEA cabinets are the most affordable option but are limited in options both in sizes and designs.  These are our specialties and we have some tricks to give them that custom kitchen look.
We work with some amazing suppliers who offer a similar product as IKEA cabinets but with more styles, colours, and finish options.  The prices here would surprise you, often only being slightly more than the IKEA options.
At the top end of the spectrum is full custom.  We work with some incredibly talented local cabinet makers who can provide you with the most amazing cabinets in any size, finish, or style you desire.  The options here are limitless!
We can help identify which options are best for you, to build that dream kitchen.
WHY CHOOSE COLLABORATIVE CONSTRUCTION?
We offer Free Estimates for your renovation projects.

We're talented and we align ourselves with the best local Regina contractors.

Our CoCon family has more than 25 years of combined experience in carpentry and renovation.

We like to give back to the Regina community which has given us so much.  We are co-founders of Build Love, an annual initiative that brings the community together to provide a life changing home renovation for a family in need.

We will bring your project to life – on time and on budget! It's our goal to exceed your expectations.

We are fully Licensed and Insured.

We pride ourselves on our customer service and our ability to help walk you through this stressful process, instead making it fun!
THINGS TO CONSIDER FOR A SUCCESSFUL KITCHEN RENOVATION
Planning is the most important step in your renovation process.  This is where most of the major decisions should be made.
Depending on the size of the project and your design skills, you may want to do this yourself. We can definitely help with the basics, giving you a great kitchen design.
When we need to bring in the pros, we work with some amazing world class local designers in Regina.
Cabinets become the focal point of your kitchen, so it's important to make the right choice that fits both your design aesthetic and budget.  With so many different options, styles, and colours to chose from, let us walk you through the pros and cons of each.
Aside from your cabinets, your backsplash is the next most noticeable item in your kitchen.  The options here are enormous, with a verity of different textiles, sizes, designs, and even layout patterns. We work with some amazing suppliers who can help you find the backsplash of your dreams.
Appliances can often be an after-thought during a kitchen renovation.  It's important to know at least what sizes and colours you plan to go with, if you haven't picked these out beforehand.  This will ensure the appliances match the style of the new kitchen and more importantly, fit the space appropriately.
Your kitchen countertops should of course add to the design of your kitchen, however they also need to hold up to the demands of your everyday use.  With several different material options (each with endless colour selections), we can help you make the best choice for your kitchen countertop needs.
Lighting plays such an important role on showcasing your kitchen renovation.  Under-cabinet lighting is both functional, as well as a great way to highlight your new countertops.  Pot lights, pendants, and fixtures can add those finishing touches and draw the eye to specific areas of your beautiful kitchen.